Movie Releases During Quarantine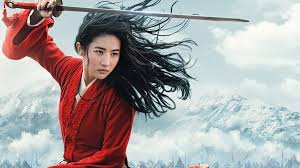 This year has brought about a lot of changes for everyone, and one of the industries greatly affected by the pandemic was the movie industry. A big part of the movie industry is the ability to have movie theaters up and running, have widespread access to movies being released, and to offer the specific experience of watching a movie in the movie theater, not in your living room. Because of this, when releasing movies people needed to find new, creative ways to get their movies onto screens. At one point during quarantine, people talked about drive-in movie theaters becoming popular again, but that never really gained a lot of traction, and for the most part drive-ins theaters were showing classic movies and horror double features. 
There are lots of streaming services like Netflix and Disney+, but not everyone has access to them, and watching a movie through them is a totally different experience compared to that in theaters. However, Disney has been releasing movies virtually through its streaming service, like Trolls World Tour and the live action feature Mulan 2020. The problem with this is that many people don't want to pay an extra $30 to watch a movie in their homes when they're already paying for what's supposed to be an all-inclusive streaming service. Mulan 2020 was a disappointing movie, and like many of Disney's live-action versions of their most popular animated movies, it wouldn't have gotten much attention without the success of the original movie. One of the interesting things Disney+ did was release the professional recording of Hamilton, so anyone who subscribed could watch the musical from the comfort of their home instead of making an expensive trip to Broadway and seeing it live. This was exciting for many fans of the musical and people who had never been too interested in it but wanted to see it. Meanwhile, other streaming services like Netflix and Hulu were able to release movies the same way they have for a long time, and with so many people stuck at home and bored, their movies and TV shows have gotten a lot of attention.
Other movies have been released to rent or buy on-demand, but that's only a select few, and for many studios, the pandemic has meant either delaying the release of movies or finding some way to release them online, if not ending production completely.  Slowly, movies theaters are opening back up, and the AMC website says, "Welcome back to the movies, most theaters are now open and more theaters will reopen as local guidelines allow," so if we don't experience another massive increase in COVID-19 cases, movie releases will hopefully get back to normal soon.
Leave a Comment