COVID-19 Regulations Enforced for Halloween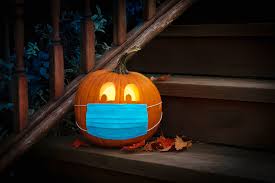 Halloween will look a little different this year. In light of the COVID-19 pandemic, the Sudbury Board of Health is enforcing new regulations surrounding the October holiday. This isn't the first time Sudbury has had to adjust its Halloween celebrations. In 2011, the historic "Halloween Nor'easter" hit, and multiple feet of snow covered the ground in the middle of fall.  Nobody could go trick-or-treating or even drive to visit friends for Halloween. Instead, families carved pumpkins and wore their costumes around the house. They watched Halloween movies, ate from the bags of candy in their homes, made snowmen, and enjoyed time off from work and school. In the special year of 2020, there are also a lot of fun Halloween opportunities. They may look a bit different, but they are worth it to keep our community safe. 
The Town Board of Health is following CDC guidelines in classifying all Halloween activities as either high risk, moderate risk, or safe. High-risk activities include traditional trick-or-treating, trunk-or-treating, indoor costume parties, haunted houses, hayrides, and tractor rides (not with family). Moderate risk activities include trick-or-treating with individually wrapped goodie bags, outdoor costume parades with safe distance, outdoor haunted forests, pumpkin patches, apple picking, and having an outdoor scary movie night with friends. Finally, the safe activities include carving pumpkins inside with members of your household, going all out with decorations or having a local decoration contest, having Halloween themed scavenger hunts in your house or around your neighborhood, virtual costume contests, outdoor parties with masks, or a Halloween movie night with people in your household.
In other towns, regulations are different. Framingham and Marlborough are both currently classified as high risk communities for COVID-19. Marlborough has canceled all town Halloween events and trick-or-treating is technically allowed but strongly advised against. In Framingham, the annual town trick-or-treating event is canceled, but people are still allowed to trick-or-treat. Worcester and Springfield have both totally canceled trick-or-treating and other Halloween events, and Halloween parties are prohibited unless proper regulations are being followed. Many towns have opted for alternative Halloween activities to discourage people from trick-or-treating or hosting potentially dangerous parties. One common idea is pumpkin carving contests, as well as "trunk or treating" in parking lots. 
In Sudbury, the Parks and Recreation Department is hosting a "great pumpkin carving drive-through" on Friday, October 30th, where families can carve a pumpkin and have it displayed at Haskell Field later that night. Drop-off is at the Fairbanks Community center and more information can be found at the Sudbury Parks and Recreation website.
 Even though Halloween will not be exactly the same, there are still lots of fun, spooky things the community can do to be festive while staying safe. Rather than be discouraged by the lack of old traditions, try something new, exciting, and extra scary this Halloween. If Sudbury is able to avoid a massive spike in cases this holiday, the town will hopefully return to the low risk category soon. For the safety of the Lincoln-Sudbury community, please follow CDC guidelines, and help everyone have a normal Halloween next year. 
Leave a Comment