To All the Boys Review
On August 17th, 2018, the first movie of the To All The Boys series came out on Netflix. After the initial movie was released, it was such a big hit that they decided to make two more, the most recent one coming out on February 12, 2021. Here is a quick review and rating of the three.
1) The first of the three, To All The Boys I Loved Before, stars high school teenagers Lara Jean, played by Lana Condor, and Peter Kavinsky, played by Noah Centineo. The two form a fake relationship to make Peter's ex-girlfriend jealous and to keep Lara Jean's friend away from making a move on her. Despite the plan to make sure that every aspect of the relationship was not real, the two start to develop real feelings for one another. Even though they begin to actually date and they actually break up, the final scene shows Lara Jean tell Peter, "I like you Peter Kavinsky, and not in a fake way." Although at points this movie can definitely be a little cringy, due to its great plot line and even better ending, it has gotten first place out of the three.
2) In second place is the third and most recent movie of the series. This one, titled To All The Boys: Always and Forever, shows the same two high schoolers in their senior year trying to figure out what their relationship will look like after high school is over. The plan in the beginning of the movie was for both Peter and Lara Jean to go to Stanford since Peter was already committed on a lacrosse scholarship. Ultimately, this plan does not go as well as they hoped. Lara Jean ends up not getting into Stanford and instead of telling Peter, she accidentally sends him a text telling him that she absolutely got in when trying to send the same text to her old sister. Once the news is broken, Lara Jean plans to go to a college near Stanford and transfer the following year. Although, on a trip to New York City, she realizes that she is only thinking of going to Stanford for Peter and she really wants to go to NYU. After another break up (due to the distance between Stanford and NYU), and another romantic scene ending with Peter asking to get back together, the two decide their relationship can survive anything. The movie gets second place, because although it definitely has very sweet and entertaining moments, other parts of the movie were awkward for the viewer.
3) In final place is the second movie, To All The Boys: P.S. I Still Love You. In this movie, one of the boys Lara Jean wrote a love letter to when she was younger, John Ambrose, played by Jordan Fisher, comes back into her life, making things confusing between Peter and Lara Jean. When John and Lara Jean start to work together at a nursing home, Lara Jean realizes that she may still have feelings for him. Throughout all of this, Lara Jean finds out that when a video of Peter and her was leaked when they were in a hot tub by Peter's ex, Gen, Peter does nothing to defend her. Before you get mad at Peter, this was just a misunderstanding. This leads to another, you guessed it, devastating break up scene! After the two break up, Lara Jean starts to think about being with John, leaving viewers screaming at the TV, yelling to Lara Jean, "It's not John, it's Peter!" Thankfully, not all hope is lost: Peter comes to Lara Jean's porch and tells her, "Break my heart Covey, break my heart into a thousand pieces," and the two pick up their relationship where they left off. This movie gets third place due to its less engaging plot line, but it still does have a few scenes that will make it worth the watch.
What do you think of these ratings? Comment down below!
Leave a Comment
About the Contributor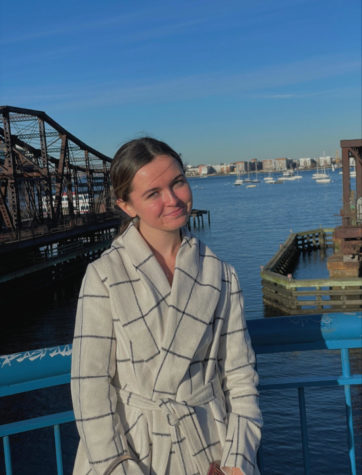 Coco Stevenson, Editor In Chief
Coco is a junior and this is her third year being a part of the Forum.  When not working on the Forum, Coco likes hanging out with friends, -cooking,...