Playing Music at L-S: An Interview with Michaela Holman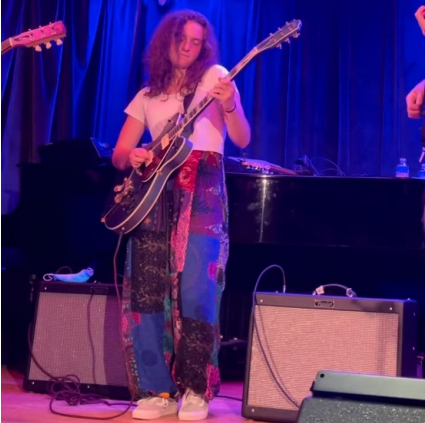 Music is an essential part of the community at Lincoln-Sudbury Regional High School. Many students are involved in musical groups, whether it be for classes, clubs, school plays, or student bands and musical groups. Students meet through a shared love of music, collaborate, and learn to play instruments and sing with incredible skill at a young age. Michaela Holman, a current junior, is one of the many students deeply involved in our musical programs. This year she is a Musicians' Union student leader and she is the electric guitarist for the band Angels Landing. Michaela also played the guitar in the band for the school musical, The Addams Family. After seeing Angels Landing and many other incredible student groups perform at the Rocktoberfest concert last month, we decided to interview her to hear about her experience as a musician at L-S.
Michaela's current band, Angels Landing, was formed at the end of last year. Its members are Michaela Holman (obviously), Jacob Vetstein, Jackson Hild, Adam McGrath, and Julia Rydzewski. Julia, a current ninth-grader, plays the drums. Rocktoberfest was her first concert with the band, and Julia was the youngest performer at the show. "I don't even think she was nervous, she just got up there and did her thing, and she was so good!" Michaela asserted. Though her time with the band has been short so far, Julia fits in perfectly with the older performers and it was amazing to see how well she played, especially for her debut performance with the Musicians' Union.
The band, like many others, met through the Musicians' Union. Michaela explained, "I was just friendly with them [Vetstein, Hild, and McGrath], and we knew we had similar music taste. I think I reached out to them and was like, 'Hey do you want to do something for the upcoming show?' And it went really well." 
To Michaela, being in a band is one of the best parts of being a musician. "If you're given the opportunity to do that, it's just a really great experience to perform and try playing different styles of music, performing in front of new people, and learning new instruments." By collaborating with each other and incorporating their own favorite music styles, band members can elevate their understanding of music and their instruments in a creative and interesting way. Angels Landing is a blues-rock band, but the group likes to play different genres when they can.
Michaela says that some of the band's inspirations are Led Zeppelin, Pink Floyd, The Eagles, B.B. King, The Beatles, Modest Mouse, Stevie Ray Vaughan, and Queen. Most of these bands are favorites of the members in Angels Landing, which have played a role in both their individual musical style and the band's overall sound. 
The band's name, Angels Landing, is actually inspired by a hike that Michaela completed at Zion National Park. "I had a sticker of it in my room and I was like 'that would be a cool band name.'" And it was!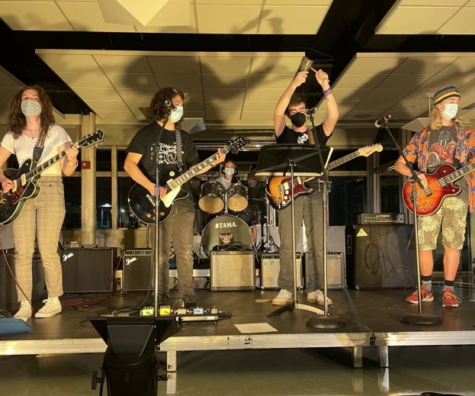 Music has been an integral part of Holman's life for a long time, "I've always loved music, who doesn't love music?" She started learning because her family friend was a guitar teacher, and her dad asked if she wanted to try guitar lessons, and she's been taking lessons ever since. She explained, "I'm very much interested in music because of that choice I made." Michaela has been playing the electric guitar for eleven years, the drums for seven years, and, "On a good day, a little bit of banjo." 
Michaela likes Delta blues, Chicago blues, or any kind of blues that exists. She also enjoys country gospel, Appalachian folk music, southern ballads, African-American traditional music, blues, and jazz. Some of Michaela's musical inspirations include; Brandi Carlile, B.B. King, Stevie Ray Vaughan, Norah Jones, Buddy Guy, Jason Isbell, Joshua Redman, Junior Wells, Luther Allison, T-Bone Walker, Little Walter, Keb' Mo', Taj Mahal, Bonnie Raitt, and Susan Tedeschi. We definitely recommend listening to some of these musicians if you never have. 
Michaela is looking to pursue a career in the music industry, and in college, she hopes to study music production or film scoring and sound engineering. Even in her future musical career, Michaela wants to maintain her focus on collaboration and working with other musicians. She wants to be involved in film scoring and music production in ways that will include, "Writing music with other people or listening to other peoples ideas for music or soundtracks and then playing that, putting it together and editing what other people pitch me and giving it to whoever would add it to the visual." Some movies with musical scores that Michaela particularly enjoys and is inspired by are Castaway (2000), Whiplash  (2014), A Star is Born (2018), and Walk the Line (2005).
This is Michaela's first year as a Musician's Union student leader, joining Adam McGrath, Jacob Vetstein, and Matt Termine, with teacher advisor Mr. Dan Schuler. The club usually performs four concerts a year, and every concert is a fundraiser event for charity. Michaela explained, "The charities usually change depending on what's going on in the world." There are no official charities picked for this year's later concerts, but if you have any ideas or anything you're passionate about raising money for, you should contact Michaela, Mr. Shuler, or any of the other leaders to let them know. The MUc(Musicians Union) also has an annual acoustic coffee house and a Battle of the Bands. There was sadly no Battle of the Bands last year due to COVID-19, but it will be back again this year. The judges are usually teachers, and there are different categories that they use to rate each band and pick which is best. One of the club's goals for the future is to hold a battle of the bands with other schools. "Right now it's just an L-S thing," Holman explains, "But we're hoping to expand to other schools so people can meet musicians from other places."
Michaela explained that it's really important that schools have Musicians' Unions or some way for musicians to meet each other. She said that meeting other musicians is "Fun and fresh," because you can not only improve as a musician, you can also make friends with common interests and meet people who share things you're passionate about: "It's so good! Why would you not want to meet people who have things in common with you?". 
The Musicians' Union is also important to the overall community this year, because after COVID-19, "It's a fun and safe way to hear live music again". Last year the Musicians Union wasn't able to host its regular events, but his year, the club has more opportunities to perform. Being able to see new students perform and how much old bands have improved is also exciting. Michaela explained, "Especially after the pandemic, it's been nice to go out and hear live music and see all the student's hard work." 
The Musicians' Union annually partners with the MLK club for the Rocktoberfest Concert to donate the profits to benefit AIDS research and education. Also known as The Jimmy Mack Rocktoberfest, the concert was first introduced to honor L-S alums who were affected by the disease. James McIntyre, also known as Jimmy, was one of the first L-S alums to be affected by this disease. McIntyre was an active member of the community and after he tragically passed away from the disease, L-S began to host an annual march to raise money for AIDs and HIV research. This march eventually became the Rocktoberfest/Jimmy Mac Concert. This year, the Rocktoberfest was a big success and raised $1,300. This donation has gone to Concern for the Girl Child North America and The Elton John AIDS Foundation.
The Rocktoberfeast Concert had many amazing performers, with bands, Acapella groups, and solo artists. It starred Julia Rydzewski, Adam McGrath, Kyle Elalamy, Nick Ressler Craig, Gabe Helgeson, Hogan Fletcher, Will Fenton, Gabby Fenton, Michaela Holman, Matt Termine, Jackson Hild, Spencer Reith, Jacob Vetstein, Nick Olsen, Shafeena Uddin, Lucas Smith, Olivia Durante, Carter Striker, Harry Ganz, Gustavo Molina, Ian Aistrup, and Grace Grandprey. The lighting was by Davin Martain, Ailsa Smith, and Ethan Harwillo.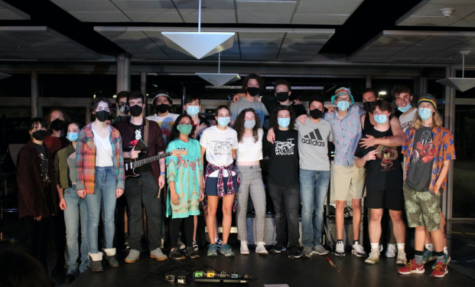 Michaela didn't perform in her first concert, and you can be involved in the club without performing if you don't feel ready. Michaela mentioned that "it's a good way to get to know the other musicians at L-S and maybe you're ready to jam with a few people, or you're ready to have a casual band but you're not ready to perform you can wait for a few shows and start with one or two songs." the club usually meets once or twice a week and meetings are optional. You can also be involved by making posters or advertising and setting up. Michaela reiterated, "It's very casual and you can work your way to performing."
If you're interested in joining the Musicians' Union you can email Michaela ([email protected]) or ask Mr. Shuler or any of the other leaders. You can attend a meeting or a couple to see what you think.
Leave a Comment