L-S Girls Volleyball Takes Down Concord-Carlisle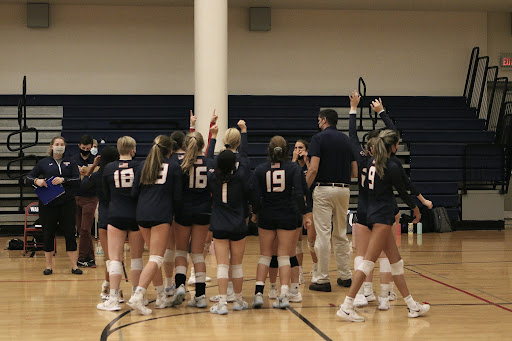 September 17th was a date circled on the calendar for the L-S Girls Varsity Volleyball and especially Head Coach Greg Falcone. The team had been gearing up for this historic match against Concord-Carlisle (CC) since their defeat in the DCL finals last year, and the pressure was on to end CC's 14 game winning streak. The first set went to L-S after a comeback from down 20-16 to tied at 20-20, resulting in a timeout by CC. Thanks to a hit by Junior Anne-Sophie Ouellet, who recorded 13 kills and 16 digs throughout the game, and serves by Freshman Joyce Li, L-S took the first set with a final score of 25-22.
The second set went to CC, 25-17, as L-S slowly fell behind to give CC the lead. However, LS regained momentum in the third set, where star Junior setter Amaya Parnell had several big plays and used her setter dump to the team's advantage. The set ultimately went to CC 26-24 after a nail-biting end and some questionable reffing calls.
Down 2-1 to their rivals, L-S dug deep. They dominated the fourth set, beginning with several dynamic rallies maintained by Junior Isabella Cruz. L-S then pulled ahead as Amaya Parnell set up Senior Marianna Gaviria for multiple kills, leading to her total of 16 in the game. Sophomore Emma Agne had a stellar block to make the score 22, and on serves by Susan Yenke, L-S won the set 25-17 and tied the match 2-2.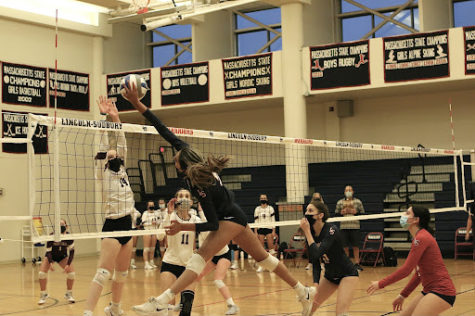 The fifth set started with L-S falling behind 2-0, but that didn't stop them. Thanks to a poor hit by CC and a perfect block by Marianna Gaviria and Senior Candice Bauer, the score was evened. After several good kills and serves, the score was 11-7. L-S held onto their lead, winning the set 15-9 and the match 3-2.
Overall, L-S showed their ability to come together as a team in this game. After the game Coach Falcone said, "This was big for our team to see they can play with anyone in the state." The team has terrific depth with freshmen Joyce Li and sophomores Harper Friedholm, Abby Venis, and Emma Agne, along with juniors such as Annie Adolfsson and Amaya Parnell who had 36 assists and 16 digs. Senior veterans Holly Anderson and Mallory Otten give the younger members great players to look up to. Tremendous defense is also one of the team's strengths, shown by Libero Ava Akisik who had 23 digs. L-S is also capable of making a comeback, even being down 2-1 after three sets.
"This was big for our team to see they can play with anyone in the state."
The team will no doubt continue to improve as the season progresses. Coach Falcone conveyed that the team never takes a day off: "Despite the big win, we are eager to get back in the practice gym to continue to work towards consistently playing at our full potential come playoff time." This win was unforgettable, and many more are sure to come.
Leave a Comment