Lincoln-Sudbury Football Prepares for Unusual Season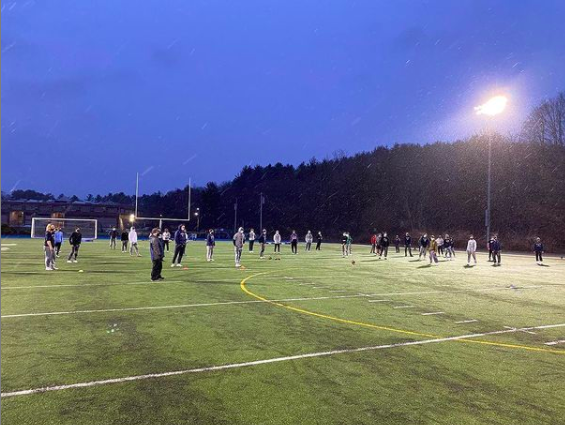 Sports have been in full swing since the fall, but one of Lincoln-Sudbury's strongest sports teams, football, has undergone a major shift in their season. In this unforeseeable year, football at L-S and throughout the Commonwealth has been moved to start in February, unlike the traditional September start time. 
Last year, L-S football made a run for the Division II championship against Mansfield, but were defeated in a rough game.  Historically, L-S has had many star student-athletes play for the team, several of whom have gone on to play college football and ensured L-S football would continue to flourish for years to come.
On January 29th, the Massachusetts Interscholastic Athletic Association (MIAA) announced that football would be allowed in February even with the ongoing Covid-19 pandemic. The original plan was to shift from the usual start in September to a new February through April season, but everyone was waiting for approval, which the MIAA only recently granted. 
Quarterback Riley O'Connell recognized this change. "It may not have been the season we were anticipating, but at this point I know I speak for the entire team when I say that we are all just happy to have a chance to play. Everyone on the team has been working extremely hard for the past 13 months just for this opportunity to compete," he said. "I know I personally am just looking forward to playing with this group of guys. 6 months ago I thought I'd never have that chance."
Recently, the school committee approved the sport for the Fall 2 season, which will start on February 22nd. This was the final step for the team. Jim Girard, the L-S football head coach, commented on the modifications that will come with playing football in a pandemic. 
"Fortunately, there have been few changes to in-game rules and regulations. Some are very minor, such as wearing face coverings underneath the helmet, but not much beyond that. The biggest differences on game days will occur on the sidelines, in terms of player spacing and how many players can dress for a game," Girard said.
There used to be no limit on how many players could dress for a game, but the new regulation allows this for 45 players at maximum. 
Despite the unique season ahead, Girard said, "I am most looking forward to working with the players on a daily basis and watching them have fun playing a sport they love." 
Even with the adjustments, the team's outlook is strong. With senior captains Gordon Gozdeck, Jesse McCullough, Collin Murphy, Will Ohler, several of whom will play college football, and junior captain Riley O'Connell, this year is set up for success.
 O'Connell said. "Obviously it's going to be different without bus rides, locker rooms, or team lifts, but we still get to play under Friday night lights. Even though the atmosphere will definitely be different without fans, there's still a certain energy you get from playing on a Friday night."
In Coach Girard's words, the best qualities and assets of the team are attitude, work ethic, team unity. He said, "We have a great bunch of kids on the team this year who are talented, smart, and love to compete."
Leave a Comment