L-S Music Department Hosts Virtual Concert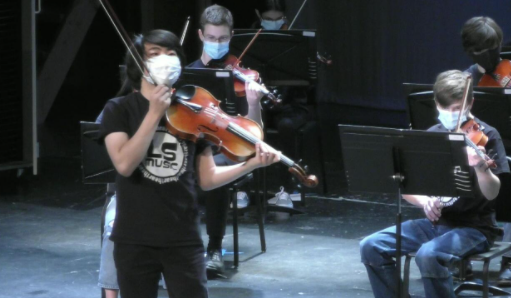 After four months of tireless work and adjustment in the wake of new COVID restrictions, the L-S Music Department and Sudbury TV proudly put on a virtual concert on Friday, December 18th. The concert was available to stream through a link and also aired on Sudbury TV. It featured the L-S band, orchestra, violin ensemble, and all three choirs (concert, treble, and chambers). 
While concerts are often broadcasted live on Sudbury TV, this year brought some changes to the regular set-up. Because of COVID regulations on singing and instruments that require breath, both the band and choirs were not able to perform live. Their songs were instead pre-recorded, each musician taking a video of themselves for visual, and later an audio recording. These videos were then put together by the Sudbury TV team in the week leading up to the broadcasted performance. The audio files needed to be arranged as well, with each individual file having to be moved to match up with the others to ensure that the group sounded as together as they would had they been performing in person.  
Ethan Parillo, an L-S junior who helped put together the concert, explains, "Sudbury TV does events similar to this in a normal year. We just have to make some slight changes with how we set things up. For example, since the Chorus and Band cannot perform live, we have to edit their pieces ahead of time and play them back during the concert. We also don't usually stream concerts like this live as they happen. Usually there is a lot of post production work that goes into it. This puts a lot more stress on the production crew to get it right the first time because you can't go back and edit it after it airs. We work really hard to make a production like this run as smooth as possible and we are very excited for future events."
"I think in some ways it's actually easier," said Jonah Sallese, another member of the team who created the virtual concert. "We don't have to shoot around people and worry less about the camera placement getting in the way. In other ways it's hard, obviously, we have to work around COVID restrictions, but we also can't sing in person. So we have to do that in post and then add the video in live. Other than that it's not very different."
Both the music directors and Sudbury TV team put in long hours making sure that the concert was able to happen. While there was one minor mix-up in the videos resulting in the combined choirs performance of "City Called Heaven" getting cut a bit short, it was easily fixed by just replaying the full song at the end of the show. 
Choir director Mr. Bunting said of the concert, "I am incredibly happy with how our virtual winter concert came out. It took many hours to put together from the students, from Sudbury Cable TV, and from me. I had to learn how to compile a large number of individual singers' audio tracks and make them sound good together in Logic Pro. I feel grateful to Matt Cranson from Sudbury Cable TV for his amazing work putting together the visual elements of the choral videos." He added, "A number of students who were initially feeling anxious about recording themselves singing pushed themselves to work on that apprehension and get the project done. I hope there are some students who sang in chorus at Lincoln or Curtis or elsewhere who are inspired to sign up for Treble Choir or Concert Choir at L-S next year after watching these videos! Everyone is welcome." While the process was long and difficult, it was definitely fulfilling, and we look forward to seeing what the L-S Music Department has in store for us in the spring.
Leave a Comment
About the Contributor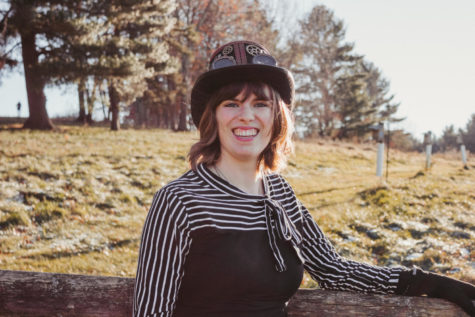 CJ Jacobs, Managing Editor, Arts Editor
CJ is in 12th grade and this is her fourth year being a part of the Forum.  CJ is also a part of The Fountain, and Chamber Singers.  Her favorite work...