Outdoor Choir Meet Brings Harmony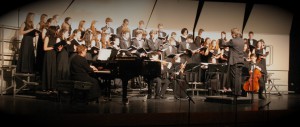 Covid-19 has changed the world as we know it for the time being, and the L-S choir has adjusted accordingly. Rehearsals have been moved outside of the building in order to accommodate the COVID restrictions on singing and, like all classes, social distancing is taken very seriously. While this has been a good strategy, those involved in tech-wraps or members of Cohort R were unable to participate. Now, we have reached a solution.
On Sunday, November 8th, all three choirs (concert, chamber, and treble) met outside behind the L-S connector to sing together and, for some, meet their fellow choir members face-to-face for the first time. We all wore masks and stood on tape markings spaced ten feet apart, but the distance didn't seem to dampen anyone's spirits. "It was fun to see everyone again, or for the first time," said Ali Jeglz, a sophomore in treble choir.
Each group had a forty-five minute time slot in which they got to sing together, learn a bit about each other, and catch up with friends who they might not have seen since before the lockdown last year. "It was super nice to actually be able to see and sing with people in person in a safe way! It was an awesome way to make it possible to meet with the people who we hadn't been able to see this year as well!" Sarah Malinoski, a junior in treble choir explained.
As someone in a tech-wrap, meaning I only have choir once a week and take a tech class all the other days for this semester, I had not been to any in-person choir classes, and had therefore not yet interacted with anyone in choir except on Google Meet. I was very grateful to be able to introduce myself to our new members of the treble choir and chamber singers, and reconnect with some of the choir's returning members. I was not the only one excited by the prospect of getting to see our choirmates in person. When I asked junior Joey Schmidt-Gross, a singer in both concert choir and chamber singers, about their thoughts on the possibility of more weekend outdoor rehearsals, they replied, "I wasn't there but I thought it was a wonderful idea! I hope we have more chances to get together like this because I really do consider chorus to be my family and I miss it."
Being able to meet up and rehearse together was beneficial for both our own musical practice, and our morale. Although we had to sing with masks on and stand ten feet apart, it still felt much more like a normal rehearsal with everyone there in person. I think that meeting up as a group was the perfect way to help build community and lessen the strains that virtual learning may be having on some people. While we are unable to do most of our choir activities such as a movie night or pot-luck dinner, it is still important that we all still stay connected to one another and take every opportunity we have to safely see each other in person.
Leave a Comment
About the Contributor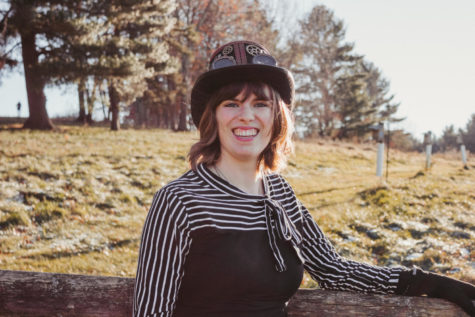 CJ Jacobs, Managing Editor, Arts Editor
CJ is in 12th grade and this is her fourth year being a part of the Forum.  CJ is also a part of The Fountain, and Chamber Singers.  Her favorite work...