New City Microcreamery Debuts Fresh Fall Flavors
One of Sudbury's newest small businesses, New City Microcreamery (affectionately referred to as New City) is in full swing as the summer menu rolls out to make room for new fall flavors. I am a proud New City employee and am glad to offer some insight on which flavors and fall drinks you should check out when you stop by!
Back in 2015, New City was founded by the owners of Rail Trail Flatbread company, located in Hudson. They opened their first store right across the street from Rail Trail back in 2015, and they now have two other locations in Sudbury and Cambridge. All the ice cream is made with fresh ingredients and homemade in Hudson with a liquid nitrogen freezing process you can read more about here.
The nature of the homemade process means the chefs in Hudson can create new flavors as they wish. Therefore, the shops in Sudbury, Cambridge and Hudson are constantly rotating  the flavors on the Ice Cream Tap List, while always  keeping the Classic favorites in stock. My personal favorites include the Cookie Dough and Cookies & Cream.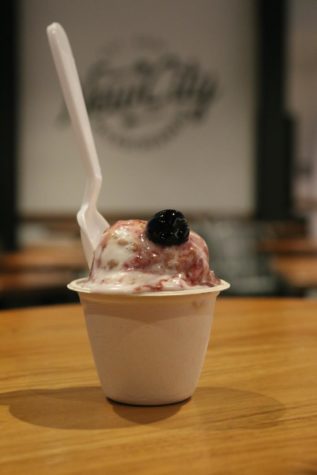 Some of the new fall flavors that I'm loving are Huckleberry Dream (pictured below) and Java the Heath. For all of you Star Wars fans, Java the Heath is in fact named after Jabba the Hutt and features a coffee base with heath bar pieces similar to the fan favorite, Mocha Chip. Other new flavors include Sweet Corn Vanilla with Blackberry, Chocolate Covered Cherry, and Peach Cobbler. Additionally, for those who don't eat dairy, New City offers a variety of vegan flavors such as Very Berry Sorbet and Vegan Chocolate. You can check out the rotating menus for each location on New City's Instagram (@newcitymicrocreamery).
Even if ice cream isn't your favorite, New City is also known for its coffee. With a team of talented baristas, we are always ready to find your next favorite fall drink. Next time you stop by, feel free to check out our Seasonal Drink Menu and Barista's Pick of the Week for some inspiration. Some of the current favorites include the Apple Crisp Latte, Chai-der (Apple Cider Chai) and the S'mores Latte. My personal favorite coffee creation has to be an affogato (a shot of espresso poured over a scoop of your favorite ice cream) and is the absolute best of both worlds.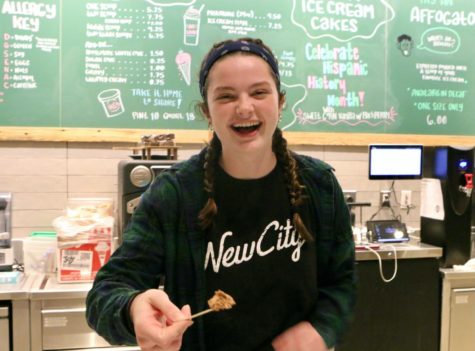 LS Students, if you're looking for a great part time job with a fun work environment scooping the best ice cream in the world, New City IS HIRING. I have met some of my best friends at New City, and there is nowhere else I would rather spend my time making money outside of school. It is the perfect place to learn valuable life skills and make some new friends! Checkout the hiring page for more information on working in any of the 3 locations and spread the word!
Leave a Comment