Kicks for Cancer 2022
On September 24th the Lincoln-Sudbury soccer teams went to Concord-Carlisle High School for the 16th annual "Kicks For Cancer" games. First started in 2007 at Concord-Carlisle High School, the event honors Lois Wells, the mother of two former Concord soccer players, including Steve Wells who would later become a member of the soccer coaching staff in 2003. When Lois died of cancer in 2007, the team wanted to do something special in her honor, and they started the event to raise funds to fight the battle against cancer.
Many teams from surrounding towns travel to Concord to play. Even though the event is called "Kicks For Cancer",  other sports, such as Volleyball and Field Hockey, played in support of this cause. Thanks to the participation of all the different teams, the event has raised $ 1.4 million since 2007. All proceeds raised from the event benefit the Dana-Farber Cancer Institute, which works to help advance ovarian cancer prevention and treatments.
During the games, it is a tradition that the players take the field wearing the name of a loved one who has battled cancer on the back of their jerseys. Another tradition is for the headliner "Kicks for Cancer" games to be played between the Lincoln-Sudbury and Concord-Carlisle soccer teams.
For many years the LS-CC game has been the main event of "Kicks For Cancer," providing spectators with many great games to watch. This pairing always draws the biggest crowds and is often LS soccer's largest fan turnout event of the year.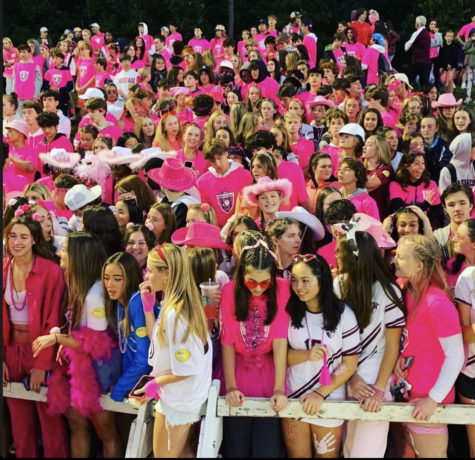 This year, the fan section did not disappoint, as many LS students flooded the hills overlooking the Concord-Carlisle soccer fields to support their soccer teams. In the varsity games, the fans got to see two close matches. In the Girl's Varsity soccer match, the LS girls played a great game that stayed tight the entire way. The girls ended with a 2-2 tie featuring goals from senior Martina Bortolotto and junior Mae Mastrullo. In the Boy's Varsity match the L-S boys also played a hard-fought game under the lights. However, it was not enough to secure the victory as the boys lost 2-0 to their Concord rivals.
Whether the teams won or lost, they still got to be a part of a great tradition and help support a great cause. Can't wait for next year!
Leave a Comment