An Update on LS Sports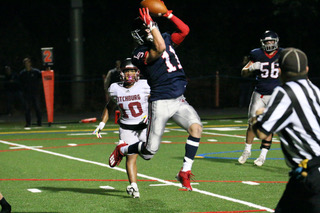 As the first quarter of the academic year came to a close on Friday, several of LS's beloved sports teams advanced further into the playoffs and several fell in close games. All eligible qualified for the tournament even if they did not continue on as hoped. Read below for a quick overview of each of LS's Varsity sports and their status in the fall season.
Girls Varsity Field Hockey: The LS Girls Field Hockey Team fell in the first round of the playoffs to Bishop Feehan 3-1 in the first round after a great season with a record of 6-9-1.
——————————————————————————-
Girls Varsity Soccer: After an awesome season with a record of 7-9-3, the LS Girls Varsity Soccer Team had a close 1-0 loss to Algonquin in the first round of the tournament.
——————————————————————————-
Boys Varsity Soccer: After a successful season with a strong senior-lead team and a record of 8-3-5, the LS Boys Varsity Soccer took a tough 4-1 loss against Saint John's High School in the first round of the postseason.
——————————————————————————-
Competitive Cheerleading: The cheerleading team had an active and enthusiastic season with several meets as well as attending numerous football games to cheer on the team.
——————————————————————————-
Varsity Cross Country: The girls and boys cross country team will be competing Thursday 6/17 & Saturday 6/19 in the MIAA D1 North Championship after a competitive season.
——————————————————————————-
Girls Varsity Volleyball: After a dynamic season, LS Girls Varsity Volleyball completed a sweep against Wellesley High School on Monday. They will be facing off against Haverhill on Friday to hopefully make it to the Final Four of the Division 1 State Tournament.
——————————————————————————-
Boys Varsity Football: Going on undefeated so far this year, the LS Boys Football team (Ranked 5th) won their first game of the D2 State tournament on Friday, 42-0 against the Wellesley Raiders. They will be facing off against Marshfield (Ranked 4th) this Friday at 7pm at Marshfield.
Leave a Comment