L-S Girls Lacrosse Faces off Against Concord-Carlisle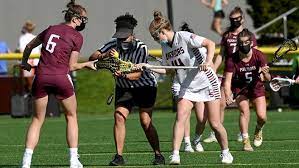 Last year, the L-S Girls' Lacrosse season was cancelled due to the global Covid-19 pandemic, but this year the team has come out of the gates without skipping a beat. 
At this point, the team has reached the end of the first week of games for the team which were against their rival Concord-Carlisle (C-C). These were the games that head coach Kaillie Kelly and coach Alexis Waggoner had been preparing the team for tirelessly. Kelly, also known as KB, was "so, so proud of this team for coming together." 
On Tuesday, May 11th, the team took on C-C at home. They scored regularly and finished with 11 goals. There were some new faces on the field such as freshmen Harper Friedholm and Ava Vadgama, and sophomores Claire Jones and Reagan Malo, but L-S also had 4 seniors: Catrina Tobin, Sophia Brindisi, Maggie Jandl and Abigail Schwartz who led the way. Tobin held down the fort in the defensive end of the game, with 10 saves in net, and Brindisi led the scoring with 5 goals and 2 assists, plus 5 draw controls. The team's win was also made possible by Jandl with 2 goals, junior Kean Sneath with 3 goals and 1 assist, and Nicola Donlan with 1 goal and 5 draw controls. Sophomores Katie Wolin and Helen Toland each contributed 2 assists. While CC tried to hang on, their effort was no match for the unrelenting L-S team and the game ended 11-8. Junior Varsity later played a strong game as well but fell 5-1 in a tough match.
On Thursday, May 13th, the teams met again, this time at C-C. L-S yet again defeated the team with a nail-biting finish at 7-6. Goals were scored by Brindisi with 4, Toland with 2, and Malo with 1. Toland also had 1 assist and Wolin had 2 assists. Star goalie Catrina Tobin made 6 saves in the game. The last shot that C-C had was met with a brick wall, much to the relief of the L-S fans in the stands. Senior Sophia Brinidisi ran the ball up the field while being covered by 4 defenders and made a beautiful pass to sophomore Katie Wolin to finish the game off. Junior Varsity played afterwards and showed great poise and improvement from their previous game despite an 11-5 loss. 
These victories were not easy wins and were meaningful for a team that had lost a whole year of playing time. Starting off the season against some of the toughest competitors in the league and achieving wins both times is a testament to the great things this team is sure to bring.
Kelly said, "Beating C-C is hard any time–they're skilled, tough and phenomenally coached. To do it twice in three days at home and away is a huge accomplishment." 
After a great success such as this, the team was no doubt triumphant but they are also still determined to keep improving. Kelly attests that, "This team has worked so hard, and have had each other's backs, and we are very happy with where we are at, but hungry to keep getting better." Watch out for L-S Girls Lacrosse's next match up against Newton South on 5/18 and 5/20 where the team will continue to show their skills!
Leave a Comment