Artist Spotlight: Matt Baird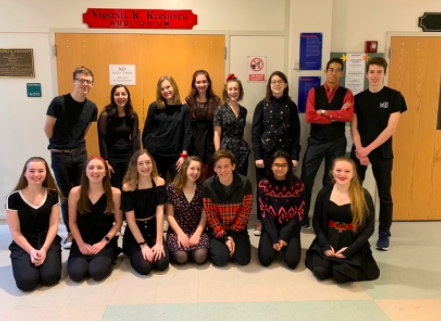 A prominent figure in the arts at LS, Matt Baird has made many significant contributions to the different entertainment groups throughout his high school career. He has been a part of the Choir and its subgroups (such as Singing Valentines), the LSB Players theatre troupe shows, and LS's #1 male-only acapella group: the Acafellas. 
Matt's been a part of the Acafellas for all four years. He found the group very welcoming, really fun, and very low-stress which made his experience much better. Matt joined the LS Choir in his sophomore year, after completing his art and FATA credits during his freshman year. He became Choir secretary the following year. As secretary, Matt was mainly in charge of taking attendance and welcoming all the members. Currently, Matt is the Choir President and as such he organizes group bonding events to help make the group inviting for new members.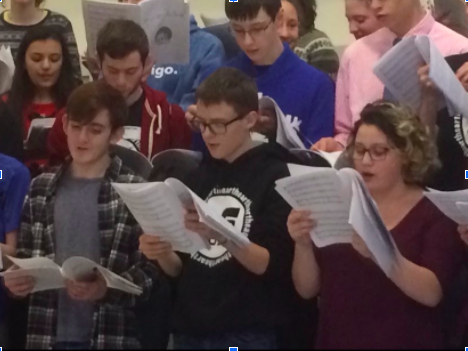 "By far my favorite time of the year in Choir is around Valentine's Day because of Singing Valentines. It's so much fun going to the different classes and performing, and sometimes the reactions from some of the recipients are funny to see."
In Matt's freshman year, he started out working backstage as an assistant stage manager for the plays and musicals. "It was such a fun experience but I wanted to do more so I decided to audition for a role in the cast the year after." In the kids show in 2019, during his sophomore year, Matt was a part of the ensemble in the Lion and Mouse Stories show. The family friendly show was a contemporary telling of the popular Lion and Mouse tale told to children at a young age. He was then also cast in two shows in the Spring 2019 Collage. The Collage was made up of 15-20 different smaller shows, all directed by juniors and seniors. "It was really crazy, yet fun, because the upperclassmen had more control on the plots of the shows and it was a bit more collaborative compared to the other shows we had done together." Although he loved both the shows he was in, Matt really enjoyed acting in one that was a comic take on auditions. During his junior year, Matt found out that he had cancer. Instead of dropping out of the theatre troupe while going through chemotherapy, he persevered and kept at it. 
"Even though I was going through chemo, I didn't want to stop performing. I told Carly that 'I might not be able to make it to all the rehearsals and I might not even be able to be at the show, but I still want to be a part of this as much as I can.' Not only Carly, the whole group was so supportive and was there for me while I went through this." 
Not only was he there opening night, Matt was there for every single show of Be More Chill and acted in the ensemble for the major musical numbers. Still battling cancer, he then participated in the kids show in the winter of 2020. Titled Law & Order: Fairytale Unit, the show was centered around different fairytale characters and crimes they committed.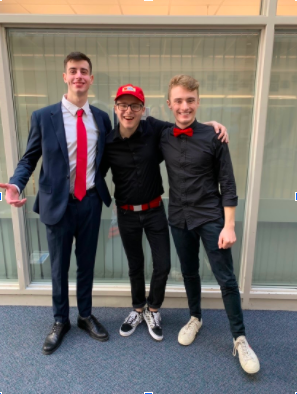 Affected by the pandemic, the LSB players decided to have two one-act shows this past fall instead of the usual musical. Matt performed a monologue in one which was about how different people had been affected by the pandemic and what their experiences were. 
"Not only was I affected by the pandemic like everyone else, I unfortunately also lost my sister during that time. Once again the group was there for me and I felt really supported by them, they've helped me get through my really hard times and I'm so appreciative of that."
In the winter of his senior year, Matt performed in the show What Happens at the End: A Song Cycle. This show was fully virtual, as everyone who virtually auditioned got in and was assigned a part and the final show was also performed live virtually. The group spent the first few rehearsals brainstorming and creating original content to perform; the different pieces were then put into a larger cohesive show with the help of two LS alumni. Recently, Matt performed in the musical Eurydice and played the part of The Child.
"It's been such a wild ride, I've really enjoyed being in all these different groups and working with all these wonderful people. This experience has given me so many amazing memories I will treasure forever!"
Leave a Comment
About the Contributor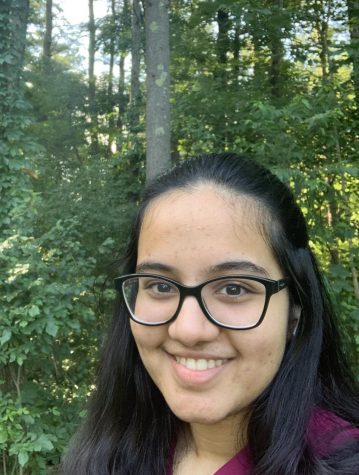 Aneesha Sharma, Arts Editor
Aneesha is in 11th grade and this is her second year being a part of the Forum.  Aneesha is also the co-founder and leader of Students Against Animal...