Anti-Asian Sentiment in the U.S.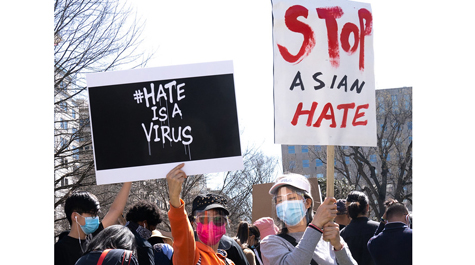 For a long time, the members of the Asian American community have been viewed as outsiders to American culture, resulting in racial discrimination and even violence. 
Asian-American community members, numbering 21 million, have been subject to microaggressions and stereotypes. After conversing with my parents, I learned about some of their experiences as first-generation immigrants, ranging from strangers making fun of their names to rude attitudes.  They have been asked, "where are you from… where are you really from?" Although seemingly harmless on the surface, this question reveals the implicit belief that Asian Americans are not true US citizens. Fortunately I have not heard many demeaning remarks aimed personally toward me; my privileged upbringing has shielded me from the many negatives of this world. 
America has kindled Anti-Asian sentiment in the past. Ranging from the lynching of 20 Chinese people in 1871 and the mass incarceration of Japanese Americans during World War II, to the Anti-Muslim and Indian violence in the aftermath of September 11, hatred towards Asian Americans has existed for a long time. The ongoing pandemic has only heightened these tensions. While overall crimes fell by 7 percent last year, hate crimes against Asian Americans rose 150 percent. Mainly, this is a result of the scapegoating of Asian Americans for the spread of COVID-19, although another aspect relates to individuals looking to cause harm in general. These are acts of violence that do not directly stem from racial resentment, but rather from stereotypes portraying Asian Americans as weak and passive to violence.
Fortunately, the violence has not entirely escaped the views of our national leaders. Although some have made the issue worse, others have acted to improve the situation. After a gunman in Atlanta killed eight people on March 16th, in which six victims were of Asian descent, President Biden condemned the escalating violence against the AAPI community. Afterwards, a nearly unanimously-passed bill in Congress made it easier to consider crimes against Asian Americans as hate crimes. Progress has been made on the political field as general awareness increases on this issue.
On another note, the "model minority" myth has perpetuated racial discrimination in college applications, stunting academic futures. Colleges know that if academic excellence and future potential were the only way to decide who gets accepted, there would be a greater amount of Asian-American college students (who average around the 78th percentile for the ACT test). To "balance" the racial structure, colleges are choosing methods in which admission officers have more to say personally. For example, Yale University had only a 14 percent acceptance rate for students of Asian descent, compared to 20 to 60 percent for other races. In addition, Harvard University was found to be giving Asian students lower personality scores than others, which connects to the "antisocial" and "quiet" tropes. Is this really what the country represents—hand picking favorites for success while working against that of others? 
Throughout history, America has suited cultures from all over the world. Our country has thrived on diversity and unity, not hatred and bigotry. During times of crisis, racial minorities often face the blunt of general discontent and suffer as the scapegoats. In the end, it may be helpful to wonder how future generations will see us— will we have made the world a more hospitable and welcoming place?
Leave a Comment