Bruins Have COVID, Celtics Need Help, and Other News
Jake DeBrusk, David Krejci, Craig Smith, David Pastrnak, and Sean Kuraly were placed on the Bruins COVID Protocol list leading to the cancellation of two games. However their return was celebrated by something we haven't seen in a while.

Fans at TD Garden! Yes, it is only 12% capacity but after over a year of not being able to attend sports games, this is be great to see.

One thing I cannot wait to see is 23-year-old Trent Frederic getting in a fight in front of Boston fans. "Freddy Fight Night" is amazing already and a Boston crowd can only make it better.

The Bruins need to play better though. They are currently fourth out of eight teams in the Eastern Division. Part of this is due to having a large amount of games against the last-place Sabres near the end of the season, but Boston needs to be doing more to push for this season. Brad Marchand, David Krejci, and Patrice Bergeron are all well over 30 and the Bruins have a limited number of seasons remaining with that core.

To go along with some bigger Patriots signings, the team brought back LB Kyle Van Noy who played the previous season with the Miami Dolphins. Van Noy is a very likable player and it is awesome to have him back in New England

And James White was re-signed! I like James White!

The Celtics are still in desperate need of support. The bench is not providing anything and Jayson Tatum and Jaylen Brown can only carry the team so far. Things got so bad that for a few days it was rumored that head coach Brad Stevens would be leaving the Celtics to coach Indiana University.

"I'm not a kid anymore. I'm a 44-year-old masshole. I swerve around others when I'm driving, I eat Dunkin Donuts, and I root for the Patriots." That absolute gem of a quote came from Brad Stevens during a bizarre press conference in which he reiterated that he was staying in Boston.

To try and solve some issues, Danny Ainge made a trade to bring guard Evan Fournier to Boston. However, the Celtics lost Daniel Theis and Jeff Teague at the deadline and it is unclear how much Fournier will actually improve the team.

The Red Sox have been fun to watch in Spring Training, despite a disappointingly low amount of games being shown on NESN. Why they refuse to broadcast Spring Training games when they have nothing else to show is something I will never understand.

Back to the team… Bobby Dalbec and Michael Chavis seem to be competing with each other for who can hit the most home runs this spring and I am loving it. Chavis needs to be fighting as hard as he is because his roster spot is still very much up in the air.

With the pitching staff, Eduardo Rodriguez was initially named the Opening Day starter, a role which he earned for the 2020 season before needing to be shut down after heart complications from COVID-19. Him rebounding from a missed season is inspiring and a true feel-good story.

Sadly, he developed arm soreness and Nathan Eovaldi will start in his place, but Rodriguez should be back to full strength very soon.

The Red Sox also seem to have gotten away with highway robbery in acquiring reliever Garrett Whitlock from the Yankees in the Rule 5 draft (The Rule 5 draft is a chance for teams to pick unprotected players from other teams minor league systems with the intent of giving players a chance in a system where they would actually have a spot). Whitlock has appeared in four games so far, allowing just one run over nine innings while striking out 12.

In sadder news, a few Dodgers fans purchased a billboard near Fenway and displayed a message thanking Boston for Mookie Betts, who brought Los Angeles a championship in 2020. Ouch. That one hurts.

But still, it is hard to be mad when the season is just around the corner and a limited number of fans will be back at Fenway. Ticket prices will be a little outrageous for the first few weeks, but after that they should become more accessible. Also, the vaccine rollout will hopefully continue in an effective way which should lead to an increase in capacity at Fenway Park.

Christian Vazquez prepares for the 2021 Red Sox season. Photo courtesy of Billie Weiss.
Leave a Comment
About the Contributor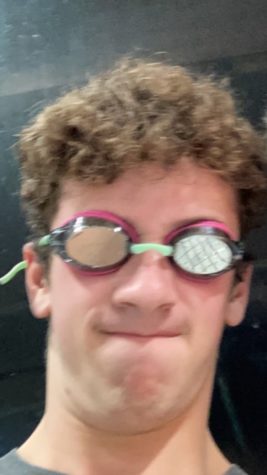 Josh Cohen, Sports Editor
Josh is in 12th grade and this is his fourth year being a part of the Forum.  Josh is also a captain of the Swim and Dive team.  His favorite work weekend...