Students Shamed for Spike in Positive Cases before February Break
In the span of just one week, 32 L-S students were reported to have tested positive for COVID-19. Superintendent Bella Wong's COVID data slides report at least three cases per day from February 7 to 13, with eight cases on the 7th alone. 
The spike in cases prompted a switch to remote learning on the Thursday and Friday before February break, and a cancellation of almost all extracurricular activities and winter sports seasons. 
"We learned of five of those cases between 8:30 and 10 p.m. [on Wednesday] which made completion of contact tracing impossible," Wong explained in an email.  "We need each of you to focus on what it is that you are doing to stay safe so that we can resume school and activities in person after the break."
Naturally, this abrupt cancellation led to sentiments of anger and disappointment among students and parents, which turned into certain student groups being targeted online. 
"I understand that some students have become the targets of blame for our current rates of infection," Wong wrote. "COVID is highly infectious.  Anyone can catch it even when being very careful. And if someone wasn't careful and this contributed to their catching COVID, shaming is not at all helpful, but harmful to our current situation."
Senior Ava Melz, a member of the girls' ice hockey team, was a target of this shaming. She posted a photo of herself at a party months ago, and many misinterpreted that she had gone to a party after knowingly having been exposed to COVID.
"The photo started circulating and people were making TikToks about me and sending threats to me and my family," Melz said. "Even after Bella Wong's email, I continued to receive backlash. Even my friend's doctor brought the photo up when she went for a check-up. This made me feel terrible because I never partied after I had to quarantine even if I made a mistake in the past, but people are very quick to jump to conclusions."
Ms. Wong echoed how there were multiple possible overlapping sources of infection and no single source has been identified in an email blast.
"In-school transmission cannot be ruled out as a contributing factor when rates of infections are this high," Wong said. 
Melz described how she received messages that implied her parents had "paid off Ms. Wong" to not expose that she had been to a party in Connecticut, when she had not even left her house. 
"It goes from each part of the community so fast that it is unsettling to watch," Melz said. "People are mad because they are not going to school or their sport got cancelled, but that happened to me too. We're all in the same boat."
The L-S administration is working with the Health Department to map out the possible sources of infection in order to come to a better understanding of the reason for the abrupt increase, which affected 21 seniors, three juniors, three sophomores, and four freshmen, one-third of whom were asymptomatic.
"The senior class is the most socially vulnerable at this time for transmission," wrote Wong. 
February break also created a concern right after the spike, as it would be more difficult to control the spread with the community more prone to traveling and gathering. 
"For us to effectively stop the continued spread among our students we need to work together to stay home when we are sick and to quarantine when identified as a close contact," Wong said. "You can absolutely be with small groups of friends but you must practice doing so safely: wearing masks, maintaining distance and frequent hand washing. We need you all to do this for yourselves and for each other to prevent a secondary round of infections to feed off this current round."
Wong encouraged students to participate in a no-cost sample pool test collection during break whether or not they were enrolled in the program. 576 student and staff samples were collected, out of which came three new positive cases and a resumption to in-person learning after break, after contact tracing was completed. 
Wong said, "If we all do our part, there is no reason for this to continue for another cycle or to happen again."
Leave a Comment
About the Contributor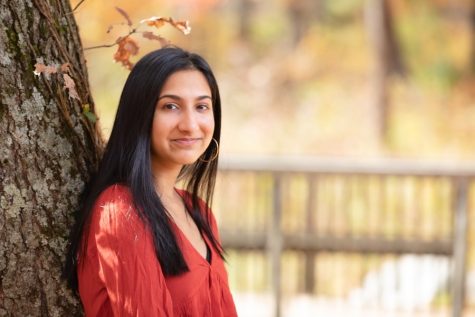 Esha Dudhwewala, Editor in Chief, Photo Editor
Esha is a senior and this is her fourth year being a part of the Forum.  Esha is also a part of the Student Senate and the Cross Country, Tennis, and...