Norm Laviolette's Personal Plunge Project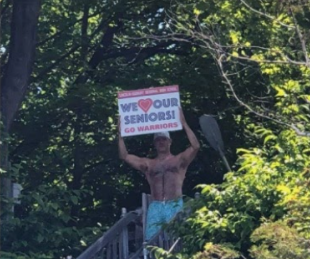 Over the past few months, many people have found different ways to make their quarantine matter. For Norm Laviolette, this meant jumping into freezing water two hundred and sixty-five times (and counting). 
It all started when Laviolette's daughter asked him to jump into the ocean with her for an internet challenge in March. After that, Laviolette decided to embark on a "personal plunge project" for all of quarantine, thinking, "Worst case scenario this goes until the fall." Every morning since, he has made a Facebook post with a video of him jumping into the ocean accompanied by a fun gimmick or joke. People can also choose to sponsor him, and can ask him to wear any outfit or costume they want, and the money will be donated. Laviolette decided that if he was going to do this, it might as well be for charity. 
Laviolette owns several comedy clubs and theatres, including stand-up comedy club Laugh Boston and Improv Asylum. When COVID-19 hit schools, restaurants, and small businesses, it also stopped live performances, putting thousands of actors and comedians out of work. A branch of his comedy clubs is a non-profit called No Rest for the Wicked Funny. "It raises money for out of work actors, comedians, performers, and artists of all stripes," Laviolette said.
 Most years, the non-profit is able to have several charity events and performances to raise money. They also partner with non-profit Globe Santa, which brings books and toys to children in need. "Every year for the last 15 years we've done a 24 hour non-stop improv show, with volunteer actors on stage for all 24 hours to raise money," Laviolette said. This show usually raises about $20,000 to $40,000 every year, but since those had to be canceled, there is very little that the non-profit can do to help. 
Laviolette's daily plunges raise money for charity and are also a lot of fun to watch, with a new theme every day. These include national gluten-free day, national "green wall in your bedroom" day, a Superman outfit, and even a "Congratulations Lincoln-Sudbury Seniors" sign when Laviolette was sponsored by a local family last June. According to Laviolette, "The hardest part is thinking of a new joke every day." 
Laviolette said, "It's almost like my own weird self-help program. I don't think about how long I'll be doing this for. I've just gotta jump today." Though he never expected to be doing this for so long, Laviolette plans to continue until the clubs are back open. From today's jump (for national do nothing day) until the next.
Laviolette's Facebook: https://www.facebook.com/norm.laviolette/
Donate Here: https://www.facebook.com/donate/946995069150862/
Leave a Comment